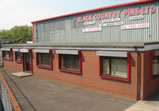 Unit 12b,
Withy Road Industrial Estate, off Broad Lane, Coseley,
near Bilston, Wolverhampton,
WV14 0RX, United Kingdom.
Tel: (01902) 402500
Fax: (01902) 402900

Manufacturers of
ROAD FORM STAKES * FENCING PINS
MARQUEE PINS * LINE PINS * DOWEL BARS


Based in the West Midlands, United Kingdom, Black Country Pins Limited are the premier manufacturer and supplier of steel forged products to the allied construction trade and the outdoor events & leisure industries.
We are famous for producing a wide range of hard working, quality products backed-up by superb customer service at a price that you'll find very hard to beat.
All of our products can be delivered swiftly and efficiently to anywhere in the UK, direct from the heart of the Black Country.


And our commitment to unbeatable quality, unbeatable service, and unbeatable price means that Black Country Pins Limited can assure you of the best attention, at all times, and whatever your needs.
Our comprehensive product range includes fencing pins, line pins, road form stakes, dowel bars, and crowbars. We can also supply an extensive choice of marquee pins, marquee stakes and tent pins, all of which are available from our range of standard stock items.

And, if you still can't find the marquee stake or tent pin to suit your requirements, our specialised, in-house production facility is on hand to manufacture the product you need, to your own exact specifications.
Validation Standards Approved


Website Design: +44 7958-294012